Bryan H. | Aug 05, 2012 | Comments 0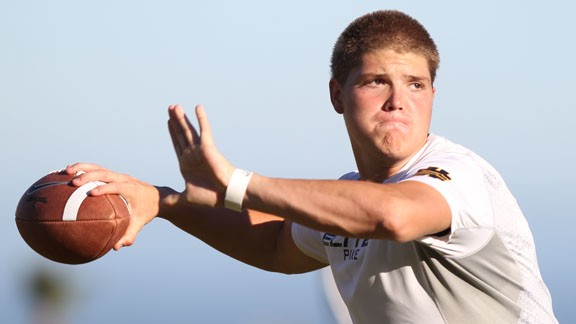 Zeke Pike is a highly touted quarterback prospect out of Dixie Heights High School in Fort Mitchell, Kentucky. He had committed to Auburn and participated in their summer workouts. He got sent home in the middle of the summer workouts after being charged with public intoxication in late July. Then, last week Gene Chizik dismissed him from the team. A week later, reports are he is transferring to Louisville to play tight end, but will not be able to play until 2013.
Zeke Pike is 6-6 and 225 pounds, and has been compared to the likes of Ben Roethlisberger. His main skill that many scouts have noticed is his poise in the pocket and strong arm. Pike was part of ESPN's Elite 11 series in which showcases the top 11 high school quarterbacks in the country. He finished 9th among the quarterbacks in the completion.
However, Pike is known to be a bit of a wild child. Going into his senior year, while attending a 7 on 7-summer camp for prospects, he was told to leave after purposely throwing the ball at one of the officials. During his senior year in high school, he was forced to miss the first and last games of the year for undisclosed reasons.
If Pike wants to have a future in football than he must make a conscious, serious effort to clean up his act.
He is lucky to have a second chance at a school like Louisville and not end up like most juvenile athletes that usually end up at a junior college. Pikes decision to be open to play tight end seems to be a pretty good sign he knows he has messed up. For someone with such talent to accept that he messed up and being willing to move from a position where he has been told he is one of the best for all his life, is a sign of humility. At least you hope so.
As big as Pike is, the move to tight end could fit him very well. Also consider, Louisville utilizes their tight ends frequently in Shawn Watson's offense.  Pike will need to put on some weight once he gets on campus, but that's what almost all players do. Pike is getting a second opportunity here, it's up to him whether he makes the most of it.
Filed Under: Football
About the Author:
Comments (0)